RISE Online Presentation Series
Info
About the event
In the absence of the RISE Annual Conference, this summer's Online Presentation Series continues the RISE tradition of gathering emerging scholarship that considers the learning crisis from an education systems perspective. And since we cannot gather in person, we thought this was an opportune time to experiment with the event format. As such, each author will present their paper in a pre-recorded video that will be available via the RISE YouTube channel prior to the "live" panel discussion taking place on Zoom. The panel discussion will focus on discussing each of the papers and Q&A from event participants, therefore we encourage everyone to watch the videos prior to the "live" event.
The first panel focuses on how to tackle inequality in learning outcomes. The second explores how to align curriculum goals and assessment to deliver learning. And the final two consider the role of teachers: how teacher preparation and coaching can improve learning outcomes when they are coherent with other elements of the education system, and finally how the design of career and compensation structures bear on teacher motivation and classroom outcomes. Click on the event programme tab for more information about each of the sessions, including a list of the papers and links to the presentations.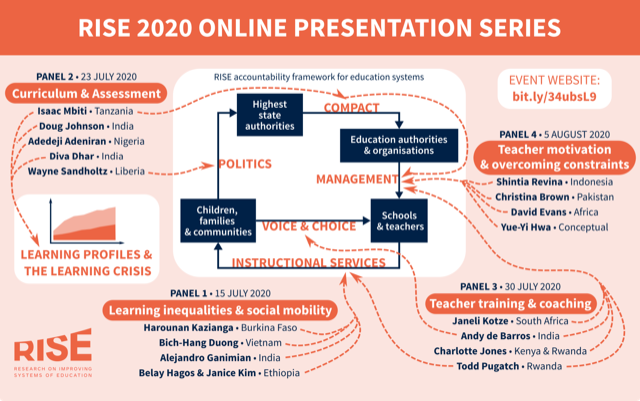 Event Programme
Programme Schedule
Learning Inequalities and Social Mobility
Wednesday, 15 July 2020 • 15:00-16:00 (UK)
Chair: Caine Rolleston (University College London; RISE Ethiopia; RISE Vietnam)
In many developing countries, inequalities in learning outcomes emerge in the early years of school. Once they fall behind, many children struggle to catch up. This panel explores a range of sources of inequality in learning outcomes and strategies that education systems can undertake to tackle them. Work from the RISE Ethiopia and India teams examines the role of preschool and early childhood intervention in closing learning gaps in primary school. Belay Hagos Hailu and Janice Kim will discuss their work on the expansion of access to primary school in Ethiopia, and on the effects of this expansion on children's readiness to start primary school, respectively. Alejandro Ganimian will discuss how educational activities in pre-school centers can impact on later learning outcomes once children reach primary school. Harounan Kazianga will share a study on the long-run effects of expanding access and quality of schooling for girls on their outcomes later in life. And finally, Bich-Hang Duong will present work from the RISE Vietnam team that explores the ways in which teachers' treatment of minority students inside the classroom can bear on students' experiences and outcomes.
Please scroll down for a list of the papers included in this session. The pre-recorded presentations can be found on our YouTube page or by clicking the links below. The "live discussion" can also be viewed on the RISE YouTube channel.
---
Curriculum and Assessment
Thursday, 23 July 2020 • 15:00-16:00 (UK)
Chair: Suman Bhattacharjea (ASER Centre)
Education systems need regular and reliable learning data, not only to measure progress towards the Sustainable Development Goals, but to understand when and why children stop learning. Students fall behind when the curriculum moves faster than their progress in learning, and if children don't master foundational skills early, it is difficult for them to catch up. The mismatch between curricular pace and students' skill levels is a crucial factor contributing to the learning crisis.
This panel discusses the importance of assessments and curricular expectations to achieve learning for all. Adedeji Adeniran from the RISE Nigeria team will discuss a new education quality indicator that is constructed by matching early grade literacy and numeracy levels with the curriculum, and will show that the learning crisis in Nigeria is more pervasive than reported in earlier assessments. Two panelists will present new findings from India. Doug Johnson will present results from a comparative study that assesses three nationally representative surveys on learning outcomes and finds mixed results on accuracy, reliability and comparability, demonstrating the need for improved data quality. And Diva Dhar will share results from an evaluation of a blended remedial intervention in Grade 9, concluding that while the program brought about large increase in foundational skills, it had no effect on Grade 10 exam results, with gains in foundational learning coming too late to meaningfully address academic deficiencies at the post-primary stage. Underscoring the importance of curricular design for foundational learning, Isaac Mbiti from the RISE Tanzania team will summarize an evaluation of a recent curriculum reform that brought about significant improvements in early grade literacy and numeracy by allocating 80% of instructional time to foundational skills and streamlining the curriculum to focus on fewer subjects. Finally, incorporating the political perspective of policy reform, Wayne Sandholtz will discuss whether voters reward service delivery. Drawing on a recent randomized school reform in Liberia, he will argue that politicians can face electoral trade-offs: the Liberian reform elicited support from voters but also opposition from powerful groups and stakeholders whose patronage networks had been disrupted.
Please scroll down for a list of the papers included in this session. The pre-recorded presentations can be found on our YouTube page or by clicking the links below.
---
Teachers and the Teaching Profession I: Training and Coaching
Thursday, 30 July 2020 • 16:00 - 17:00 (UK)
Chair: Joe DeStefano (RTI International)
As millions of parents around the world abruptly discovered amid Covid-19 school closures, teaching is not child's play. Given how difficult it is to teach well, education systems need to support teachers to continually build their competencies. To facilitate student learning, teacher training has to be aligned not only with effective pedagogical practice, but also with students' learning levels, teachers' context-specific needs, and local curricular requirements.
The four papers in this panel examine both the importance and the complexity of training and coaching for in-service teachers. Two of these papers evaluate non-traditional modes of teacher training. RISE Fellow Janeli Kotzé will compare the effectiveness of virtual, tablet-based coaching and on-site coaching for South African primary school teachers, and show that the high-tech coaching intervention had lower per-unit costs than the on-site model but was ultimately less cost-effective because it had smaller effects on student learning. Charlotte Jones will discuss a study of the delivery of teacher professional development through communities of practice implemented at scale in Kenya and Rwanda, and identify characteristics of effective communities of practice. A third paper looks not only at teachers but also the local community. Andy de Barros will examine the efficacy of teacher training and instructional materials for a primary school mathematics programme in Karnataka, India, and discuss whether student learning received an additional boost when the training and materials were complemented by community engagement events. Finally, Todd Pugatch will present results from an evaluation of the impact of an extensive teacher training programme on the delivery of a compulsory entrepreneurship course in Rwandan secondary schools across a range of outcomes. He will show that the training had positive effects on teachers' pedagogical practices and students' participation in entrepreneurial activities, but no effect on students' cognitive or non-cognitive skills, nor on their overall income.
Please scroll down for a list of the papers included in this session. The pre-recorded presentations can be found on our YouTube page or by clicking the links below.
---
Teachers and the Teaching Profession II: Motivation and Overcoming Constraints
Wednesday, 5 August 2020 • 14:00-15:00 (UK)
Chair: Emiliana Vegas (Brookings Institute; RISE Intellectual Leadership Team)
This panel explores the factors at play in attracting, retaining, and motivating good teachers. It features two papers that explore the broad set of career structures that jointly determine teacher behavior, and two papers that shed new light on the level and importance of teacher pay. RISE Research Fellow Yue-Yi Hwa will present a holistic model of teacher careers wherein pay is only one of a number of relevant factors, and where those factors vary across phases of the teacher career cycle (pre-service, novice, experience, and veteran). Shintia Revina from the RISE Indonesia team will draw on 'thick' qualitative data from 16 novice teachers in Indonesia to highlight how non-pay factors – such as workload, and the prevailing norms modelled by experienced teachers – affected their motivation. Christina Brown from the RISE Pakistan team will describe a randomized controlled trial in private schools in Pakistan that illuminates the conditions under which performance pay can raise teacher quality, and in particular the impact of performance pay on the understudied margin of how teachers sort into schools. Finally, David Evans will use rarely assembled descriptive statistics from 15 African countries to ask whether teachers are underpaid relative to similar workers (yes overall, but not per hour) and to identify a robust correlation between teacher pay and student learning outcomes that also emphasizes the potential role of pay in teacher selection.
Please scroll down for a list of the papers included in this session. The pre-recorded presentations can be found on our YouTube page or by clicking the links below.