IJED Special Issue On Learning Profiles Reveals the Importance of Foundational Skills
In an International Journal of Educational Development (IJED) Special Issue, 12 papers (all open access) examine learning profiles and how they can be used to inform education system priorities to address the learning crisis.
Edited by Laura Savage of the UK's Foreign, Commonwealth and Development Office (FCDO) and RISE's Michelle Kaffenberger and Luis Crouch, Schooling without Learning: Implications of Learning Profiles for the Global Learning Crisis is an International Journal of Educational Development (IJED) Special Issue focused on using learning profiles to reveal the dynamics of learning behind the learning crisis.
Learning profiles visualise the skills, capabilities, or competencies children gain during their time in school. When learning profiles flatten early, as often occurs, this indicates that students are ceasing to rapidly gain new skills.
Figure 1: Learning profiles for foundational numeracy skills in Indonesia flattened after Grade 6, and learning profiles were lower in 2014 than in 2000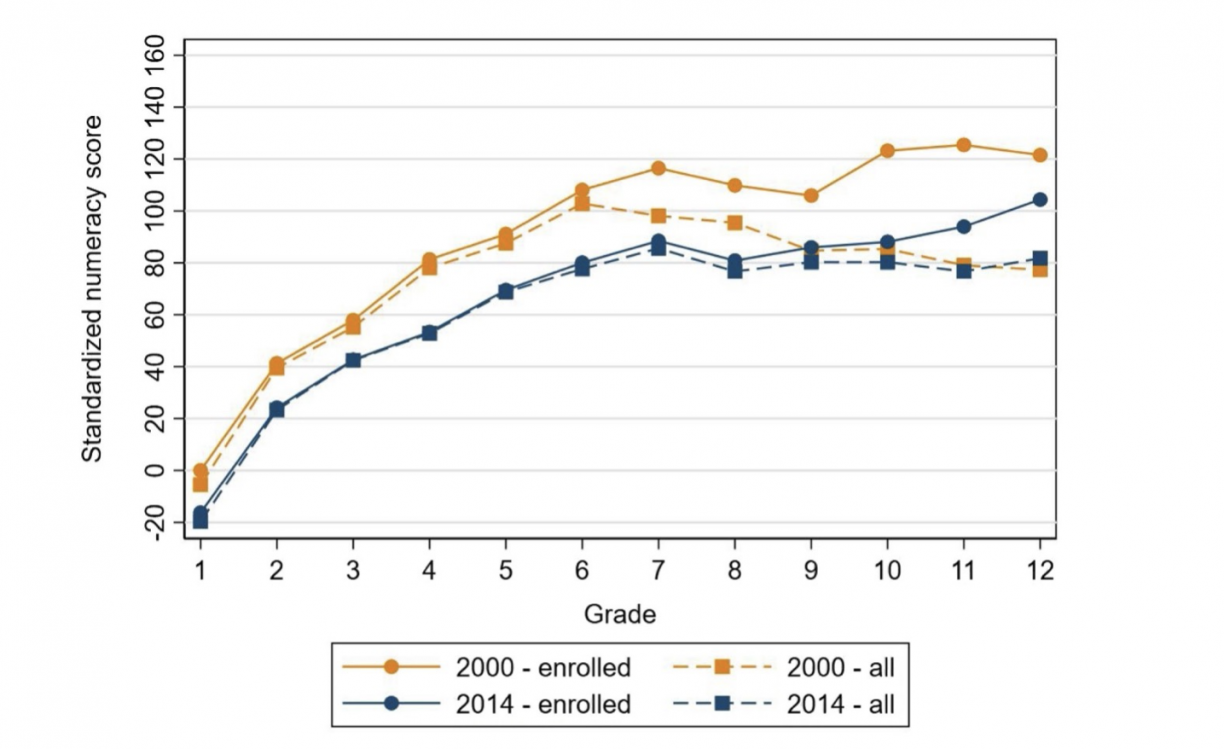 The 12 papers in the special issue reveal a need to prioritise mastery of foundational skills for all children in order to steepen learning profiles and ensure children continue learning and reach their full potential. They also point to the need for systemic change that ensures a high-quality education for all children.
"Improvements are needed in the early primary years to enable later learning."

Learning profiles are a unique tool because they track learning starting in the early years, while many assessments only measure learning at one point in time later in schooling. Early mastery of foundational skills is crucial because once children's learning levels have fallen significantly behind the curriculum, it becomes nearly impossible to catch up. Furthermore, ensuring deep conceptual mastery is important as learning profiles reveal that current learning all too often is fragile, with learning progression frequently followed by stagnation or reversals as children have not sufficiently mastered the content.

Read more:

Schooling progress, learning reversal: Indonesia's learning profiles between 2000 and 2014

New evidence on learning trajectories in a low-income setting
RISE blog posts and podcasts reflect the views of the authors and do not necessarily represent the views of the organisation or our funders.