How to Reconnect Communities and Schools to Improve Learning: A RISE Panel at BAICE 2022
Looking beyond conventional models can open up a range of possibilities for how local communities can support children's learning.
At the 2022 conference of the British Association for International and Comparative Education (BAICE), RISE researchers presented research on a panel titled 'From management to support? How to reconnect communities and schools to improve learning'.
This panel, which aligned with the conference theme of 'Partnerships in education: collaboration, co-operation and co-optation', explored and questioned prevailing models of local community involvement in education.
Here are snippets from the presentations:
1. Jason Silberstein, 'Management vs. governance: A systems review of why school committees struggle to hold schools accountable and improve learning'
Drawing on a review of research on school committees, Jason Silberstein (RISE Directorate) observed that such committees of local community members had largely fallen short of the management role that they are frequently expected to play. Despite significant policy attention and substantial investment from international donors, school committees rarely make a big impact on student learning.
Instead of a management role centred on involvement in school operational processes (e.g., overseeing the maintenance of school premises; monitoring the spending of small school grants), he argued that school committees are likely to have more impact on learning if they instead take on a governance role centred on setting the direction for the school and ensuring that the school pursues that goal (e.g., articulating a vision for the sort of education that the local community prioritises; requiring the headteacher to regularly give narrative justifications how their actions serve that vision). However, school committees can only fulfil such a governance role effectively in education systems where certain conditions are true (see the rightmost column on the slide below).
2. Masooda Bano, 'Education reforms and bottom-up accountability'
Masooda Bano (RISE Political Economy of Implementation) similarly observed that school committees—at least, the donor-supported, management-oriented approach to school committees—are unlikely to improve student learning because they often lack adequate authority and become an exercise in form over function. Drawing on 10 studies that examine different aspects of the short route of accountability (i.e., direct accountability between local communities and local schools) as contrasted to the long route of accountability (i.e., accountability from the electorate via political officeholders and the state bureaucracy through to schools), she discussed an alternative model for community involvement in local schools.
This model is based on her study of the NGO Pratham in India, which she characterised as pairing a short route based on collaboration and support (rather than accountability) with simultaneous efforts to strengthen the long route of accountability and orient it toward learning outcomes. Pratham enables a supportive relationship between communities and schools by mobilising community members to volunteer for a range of roles that put aside formal, committee-based monitoring in favour of tangible involvement in teaching and learning (as shown on the slide below). However, it is an open question as to whether this NGO-led model powered by 'organic' community participation could be adopted by government institutions like school committees that usually rely on 'induced' participation.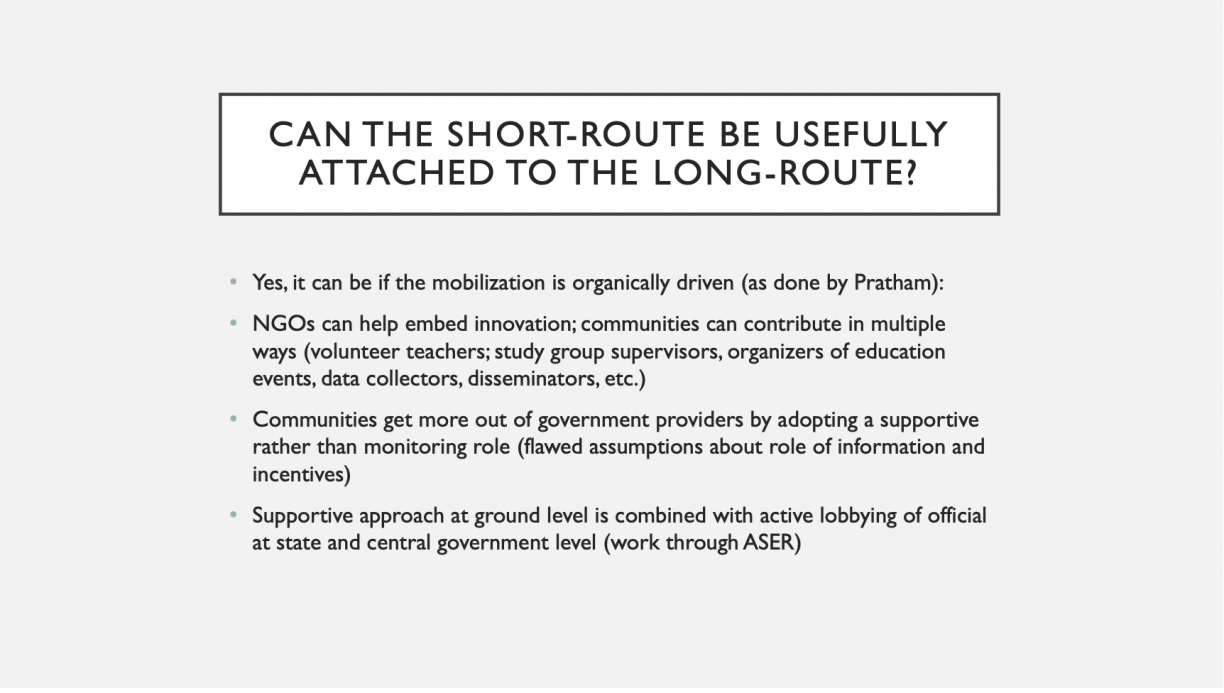 3. Julius Atuhurra, 'Has Covid-19 changed the education landscape in developing countries? Evidence under school closures in Uganda'
Offering an example of what a supportive relationship between communities and schools might look like, Julius Atuhurra (RISE Directorate) presented on a study in the Busoga subregion of Uganda that started out as a randomised-control trial of how to diffuse 'positive deviance' (i.e., unusually effective) practices to parents and teachers. However, when schools closed due to COVID-19, the research team instead pivoted to providing support for home-based learning via a radio talkshow targeting parents, teachers, and headteachers (with a randomised sample of the audience receiving an SMS to encourage them to tune in) as well as a WhatsApp-based peer support forum for headteachers.
Over time, the study saw improvements in parents' contributions to home learning and in relationships between parents, teachers, and schools. In light of this, Julius argued that the principal-agent model in which parents are seen as monitoring teachers transactionally is inappropriate in the context of Busoga, where school-community relations should be more accurately conceptualised as mutual support model (as shown on the slide below).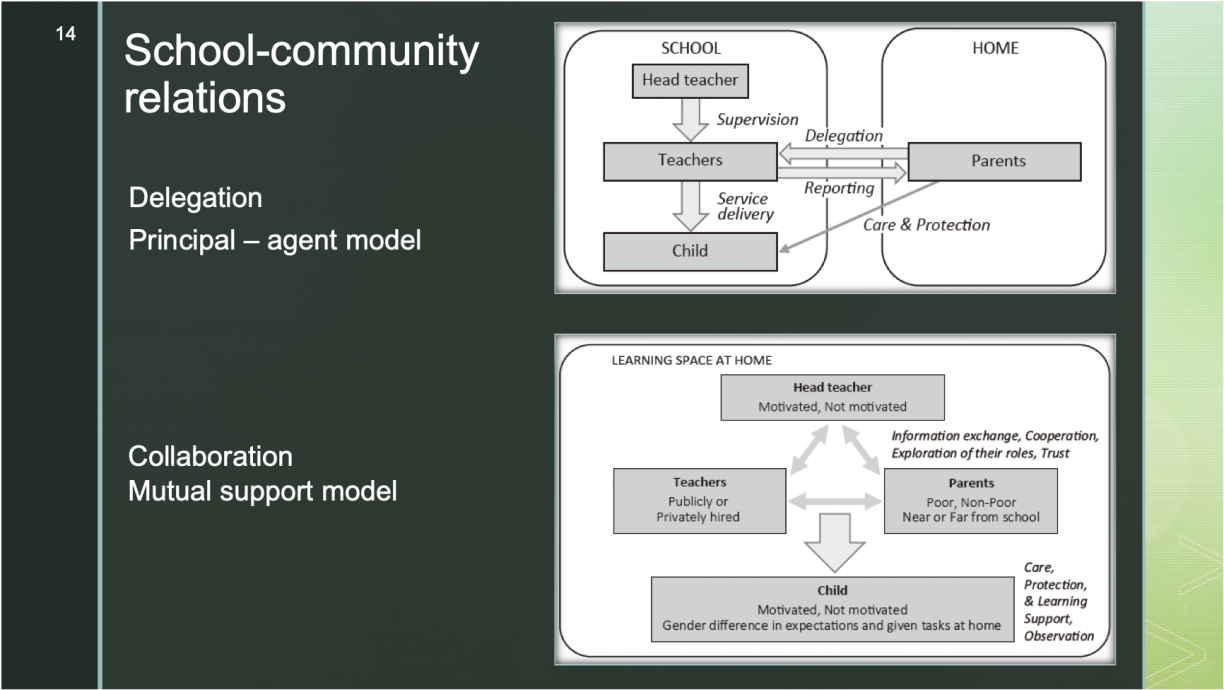 The panel concluded with a Q&A session that covered topics ranging from empirical examples of enablers and inhibitors of a governance role for local school committees, the sustainability of movements like Pratham, and how positive deviance challenges us to look beyond problems toward existing solutions.
Overall, the presentations in this panel challenged the notion that the community-school partnership is best understood as a relationship of management. Instead, the presentations collectively suggest that organic and supportive forms of partnership may hold promise for involving communities in the endeavour of improving children's education.
RISE blog posts and podcasts reflect the views of the authors and do not necessarily represent the views of the organisation or our funders.