CIES 2018 - Equity in Education: Taking a Deeper Look at the Young Lives Data
While attending the CIES conference in Mexico City, I joined a session relevant to the RISE research programme. Not only did the panel feature a number of people involved with RISE, but three of the focus countries form part of the RISE research on education systems. The session, Unequal Educational Opportunities and Unjust Inequalities of Outcomes: Lessons from Ethiopia, India, Peru, and Vietnam on Equity in Education, examined the nature of inequality and inequity in learning opportunities and outcomes (including policy implications) using Young Lives data in the four countries. The panel was chaired by Juan Leon of the Group for the Analysis of Development (GRADE) and comprised Caine Rolleston (RISE, Young Lives, UCL), Padmini Iyer (RISE, Young Lives, REAL Centre), Bridget Azubuike (Young Lives) and Santiago Cueto (Country Director, Young Lives, Peru), along with discussant Luis Crouch (RISE, RTI International).
After a short introduction about the data collection methods, the Chair of the session spoke briefly about the overall theme across the four presentations--to evaluate the school effectiveness, and in the case of Peru, to look at the equality of opportunity for children in secondary school.
Bridget Azubuike kicked off the presentations by discussing her research in Ethiopia. She started with a description of drastic expansion in access to education in early grades with very high enrolment rates in Ethiopia. The Young Lives survey data in Ethiopia showed that for later grades the retention/enrolment rate dropped significantly across cohorts. Furthermore, Azubuike observed that while household wealth and parental academic achievement did not play an important role in school retention, it was evident that early grade achievement and age were important factors in children making the transition to higher grade levels (a paper presented by RISE Ethiopia team member Tassew Woldehanna at the 2017 RISE Annual Conference, using the Young Lives data, also looks into this topic).  Azubuike summed up her presentation by suggesting that governmental support for older students enrolling in school might improve school retention in higher grades. 
The next presentation was by Caine Rolleston who presented results from the Young Lives survey in India. Like Ethiopia, there seems to be a massive expansion in enrolment, especially in private low-cost schools. Additionally, the Young Lives data showed that the low cost private schools are performing better, and in some cases three times better than public schools when comparing test scores on literacy and numeracy. Rolleston pointed out that the addition of private schools in India has led to widening inequality in India and there is not enough evidence to state that there is significant improvement in learning outcomes. Discussing the impact of different school types, the Young Lives data showed that unaided private schools are high performing and consistently have a higher impact (value added) on students, whereas tribal schools, which comprises students from the poorest communities, perform poorly and add the least amount of value. While there exists a higher variation in performance among students who attend low fee/public schools, parents prefer to pay more to avoid the lottery and send their children to schools with lesser variation in test scores.
Padmini Iyer presented her work with Caine Rolleston on Vietnam. Similar to Ethiopia and India, access to education has expanded in Vietnam. However, this expansion has not taken place equitably. Further, similar to Ethiopia and India, the enrolment/retention rate for higher grades seems to be much lower. The Young Lives study also found that ethnic minorities are at a significant disadvantage when transitioning to higher grades, as wealth and parental academic achievement are significant factors in students transitioning to Grade 10. However, Iyer pointed out that "ability", over time, is a key factor in determining learning outcomes in Vietnam.  
Santiago Cueto also made a presentation of his initial findings from the new Young Lives data from Peru. The study in Peru is focused on looking at the equality of opportunity in secondary schools. As observed in earlier presentations, Cueto pointed out that in Peru, good performance in early grades, along with good quality of schooling, leads to better educational outcomes in secondary school. However, there seems to be high inequality in educational opportunity in Peru, across the survey sample.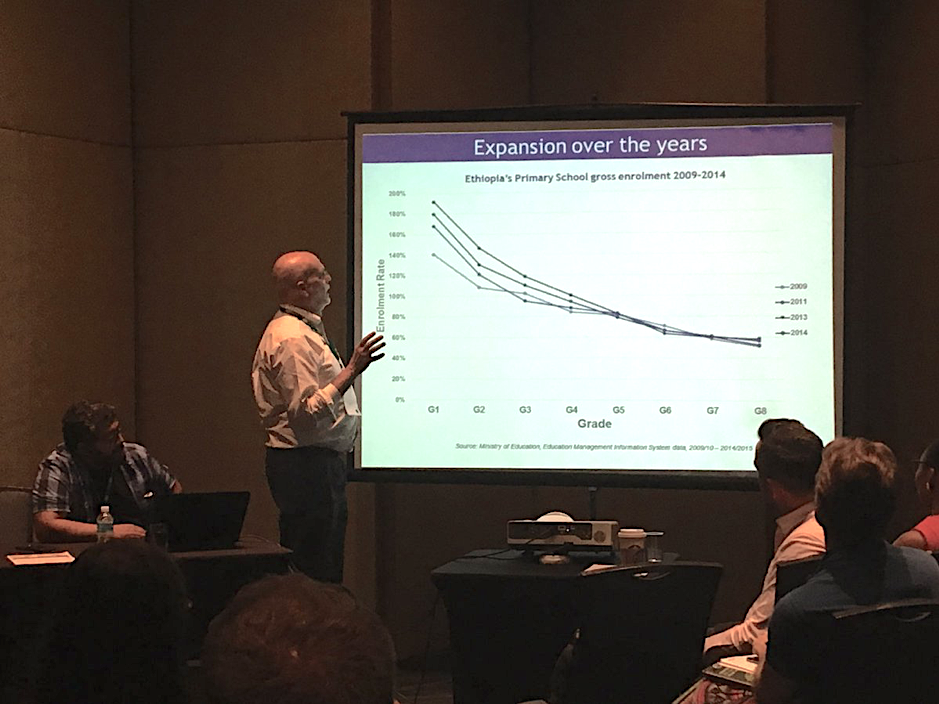 After the presentations, Luis Crouch responded to the evidence provided. In the case of Ethiopia, he pointed out that the massive decline in enrolment from Grade 1 to Grade 5 points out that there is something wrong with the early grade education; whereas in the case of India, he wondered where there is a market mechanism at play which reduces the variance in performance (standardisation of quality) in high fee private schools.
At the end of the session, the panel took questions from participants and looked at a cross-country view of the data. The panellists stated that there is need for more detailed analysis of the current data and that more data should be gathered in order to make detailed policy recommendations. Like RISE, Young Lives has voiced their commitment to continuing research to make a positive contribution to ending the global learning crisis
RISE blog posts reflect the views of the authors and do not necessarily represent the views of the organisation or our funders.